Teresa Mosqueda Romero Obituary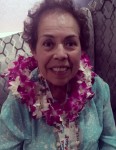 Teresa
Torres
Mosqueda Romero
June 12, 1938
-
June 26, 2017
Born in Guadalajara, Jalisco, Mexico
Resided in

Springfield

,

OR
Obituary
Teresa Mosqueda passed away peacefully June 26th, 2017 at Sacred Heart Riverbend Hospital in
Springfield, Oregon. Her children, and grandchildren were there by her side.

Teresa was born and raised in Guadalajara, Jalisco, Mexico to the parents of Adela and Roberto
Mosqueda. She was the second of three children, her older brother Robert Jr., and younger sister
Adela jr. Teresa attended a boarding school for a few years with her younger sister. Her mother
was a midwife and her father a mayor of a town in Mexico called Ajijic. At the age of twelve,
Teresa lost her father to yellow fever.

Two years later, with the assistance of a friend, Teresa her two siblings and her mother migrated
legally to California in the U.S. She began schooling for a short time, however the transition was
harder than expected and Teresa began working in the fields to earn a little extra money to help
maintain the family. After several years Teresa started working at Santa Teresita Hospital in
Duarte California as a nurse's aide.

At the age of 19 she met her future husband, Gilbert D. Romero, who was also working at the
hospital. They courted for a year and married in the year 1958. They then had three children
between the years of 1959 and 1966. Gilbert Jr., Teresita, and Trinidad. They moved a few times
while still staying in California because of Gilbert's job, which was working for the city
transportation.

While raising her children, Teresa went to night school at Monrovia High school to finish
learning how to read and write english. In the year 1990 she became a US citizen. She then
moved to Oregon and continued working as a dental technician until the year 2001 when she
retired. Teresa then lived with her daughter Trinidad and her granddaughter in Oregon until she
passed.

She enjoyed spending time with family and telling family history. She was proud of her catholic
faith and her culture. Teresa also enjoyed music and cooking. Her ways of sharing her culture
with others. Her favorite pass time was sewing of any kind, (crochet, embroidery, knitting, etc.)
Teresa was a woman of many talents and passions who was frugal and a hard worker and loved
sharing that with others, especially her grandchildren. Jose, Angel, Joseph, Jacob, Anthony,
Tirzah, and Franchesca. Along with her great grandchildren Eva and Jeremiah. She enjoyed
teaching them everything about anything.
Services
Funeral Mass
St. Mary's Catholic Church
1062 Charnelton St.
Eugene
,
97401
Preceded by Rosary @ 11:30AM
- Show more -
Funeral Mass
Old St. Francis of Assisi Catholic Church
599 NW Lava Dr.
Bend
,
OR
97701
Preceded by the Rosary & Litany of the Saints @ 9:45AM
- Show more -
Burial
La Pine Community Cemetery
17425 Reed Rd.
La Pine
,
OR
97739